---
Cut off from the outside world by its remote location and shunned by all who know its forbidding and sinister reputation, Hill House has remained empty and silent except for the daily visits of its grumbling caretaker, Mrs. Dudley. Its isolation is broken by the arrival of Dr. Montague, an investigator of supernatural phenomena who has been granted a short lease by the present owner. His mission is to delve into the morbid history of the house and to come to grips with the occult forces that have made it uninhabitable for many years. He is joined by three others, all unacquainted, but all having their particular reasons for accepting Dr. Montague's invitation to share his Hill House sojourn. Their visit begins with jovial informality, but their sensibilities are soon jolted by strange and eerie occurrences. As they struggle to disguise their mounting fears they are joined by Dr. Montague's wife and a friend, who have come to Hill House for purposes of their own. They too are absorbed by the supernatural, but their approach is via direct communication with the departed spirits—a type of psychic research which is regarded fearfully by Dr. Montague and which, as subsequent events bear out, brings on a crisis in which the evil forces of Hill House are goaded to a new and, for one of those present, fatal fury.

Singers Bob Wallace and Phil Davis join sister act Betty and Judy Haynes to perform a Christmas show in rural Vermont. There, they run into Gen. Waverly, the boys' commander in World War II, who, they learn, is having financial difficulties; his quaint country inn is failing. So what's the foursome to do but plan a yuletide miracle: a fun-filled musical extravaganza that's sure to put Waverly and his business in the black!

Get ready for a night of mishaps, mischief, and madcap mania! It's the opening night of the Cornley Drama Society's newest production, "The Murder at Haversham Manor," and things have quickly gone from bad…to utterly disastrous. The troupe's ambitious 1920s whodunit has everything you never want in a show: falling props, collapsing scenery, an unconscious leading lady, a corpse that can't play dead, and actors who trip over everything…including their lines. How will this eager ensemble battle against all of the disastrous odds? Will they make it to the final curtain call? An international hit that's equal parts Monty Python and Sherlock Holmes – The Play That Goes Wrong is full of hilarious perfection.

It's 1985, and rock star wannabe, Robbie Hart, is New Jersey's favorite wedding singer. He's the life of the party until his own fiancée leaves him at the altar. Shot through the heart, Robbie makes every wedding as disastrous as his own. Enter Julia, a winsome waitress who wins his affection. As luck would have it, Julia is about to be married to a Wall Street shark, and, unless Robbie can pull off the performance of a decade, the girl of his dreams will be gone forever.

A man with past addictions has recently been released from jail. As he tries to resist old temptations and turn his life around, he is dealt with the task of trying to prevent his younger cousin from making the same choices that got him into trouble. At the same time, he has to deal with a corrupt police officer that wants to put him back behind bars.
Purchase Tickets
Purchase tickets online for our upcoming performances!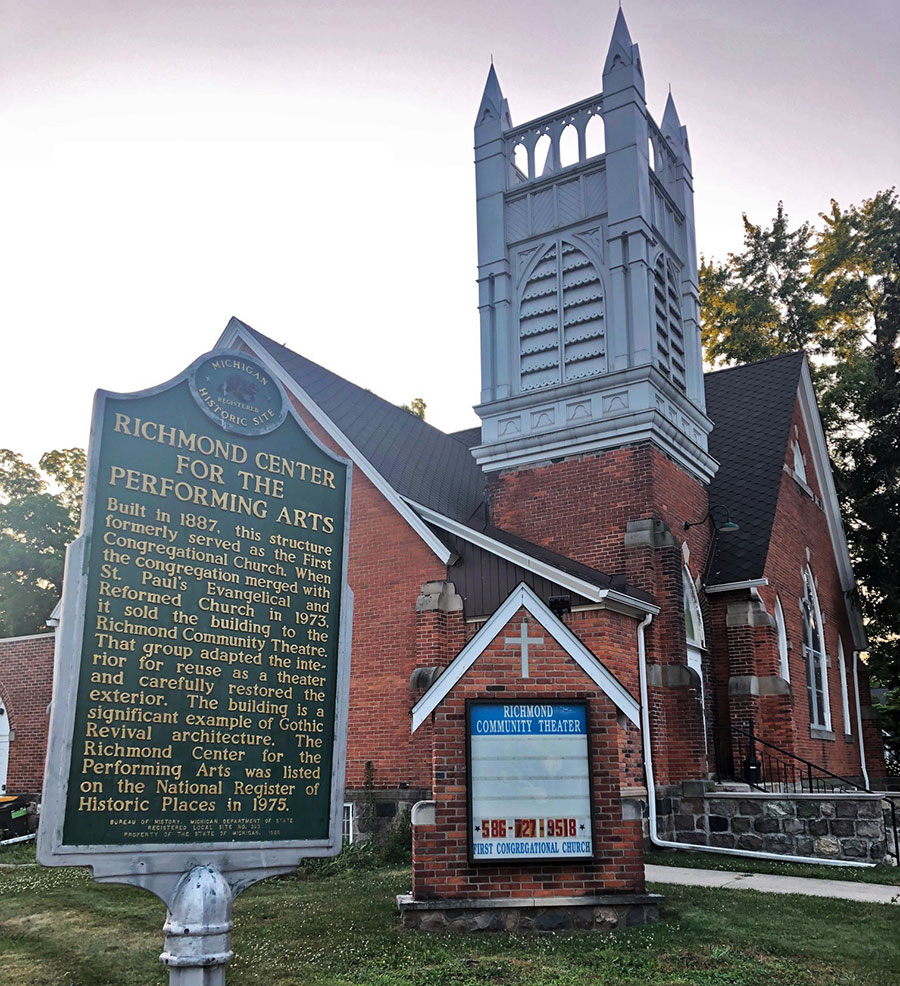 Our Mission
It is our goal to present theatrical presentations that will:
Provide an environment for the community involvement with the theatre at all levels.
Enrich our community through the art of theatre.
Inspire and challenge artists and audiences.
Nurture collaboration and individual creativity.
Provide opportunities for the youth in our community to personally experience theatre.