About The Richmond Community Theatre
The Richmond Community Theatre (RCT) was founded in 1965 by Alice Morin and thirty-six theatre enthusiasts, sponsored by the City of Richmond and the Richmond Community Schools as part of a shared recreation program. When the shared agreement was concluded in 1967, the Richmond Community Schools took on the Richmond Community Theatre as part of adult education. Previously housed in the Civic Auditorium (now the school administration building on Main Street), the Richmond Community Theatre in cooperation with the Richmond Community Schools became lease holders of the former First Congregational Church at 69619 Parker Street in Richmond.
In 1973, with the acquisition of the former First Congregational Church, application was made to register the building as a State and National Historical Monument. The building now known as the Richmond Center for the Performing Arts is dedicated to the memory of Wallace Edlund, former Superintendent of the Richmond Community Schools, who was an inspiration and a practical advisor during the early days of planning for purchase of the former church.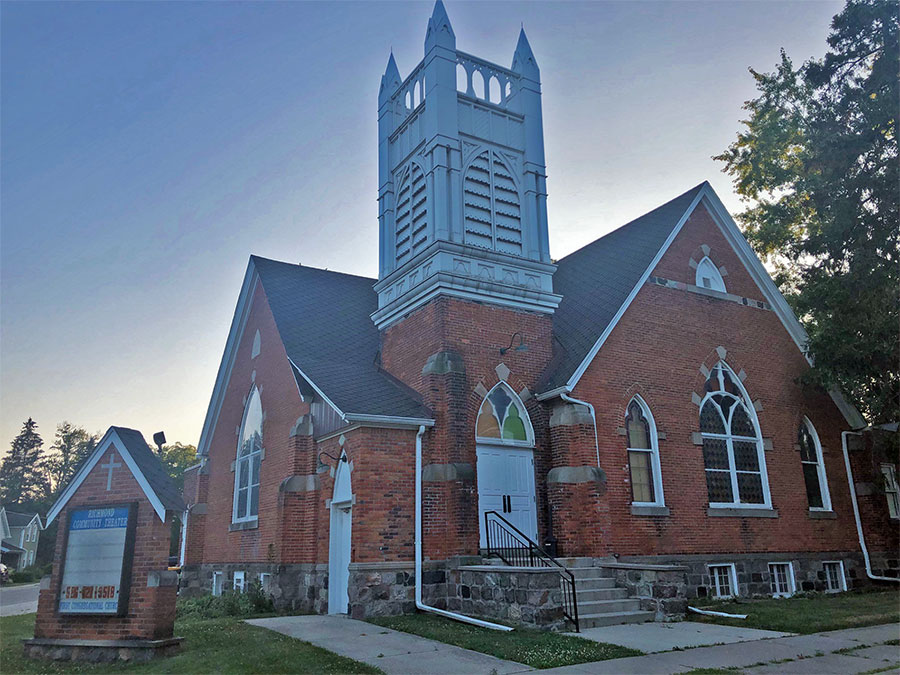 Historical registration was completed in 1975, after the renovation of the interior for use as an auditorium facility, and maintenance of the exterior in compliance with Historical Commission requirements. Richmond Community Theatre also became an independent, nonprofit corporation registered with the State of Michigan. The volunteer group, whose purpose is to provide the best live theatre possible to enhance amateur and educational programs in the area, is governed by an eleven person board. Membership of 36 in 1965 has grown to an active list of over 150, involving members and audience members from Macomb County, St. Clair County, Oakland County and Wayne County.
Since its founding in 1965, Richmond Community Theatre has been unique in scheduling classical and original plays that are not frequent community fare. For sixteen years, Richmond Community Theatre provided touring theatre for children productions in schools throughout Southeastern Michigan, and offered Summer theatre workshops for area students in kindergarten through eighth grade. RCT has been an active member in the Michigan Community Theatre Association with years of participation in State theatre festivals. A charter member of the Seaway Arts Council in Port Huron, RCT has also been a long-time and active member of the Macomb Arts Council with representatives acting as board members and officers. In addition, we are a proud member of the American Association of Community Theatres and the Richmond Area Chamber of Commerce.
Richmond Community Theatre has fostered outreach programs through the North Macomb Youth Theatre program. RCT's vast theatrical wardrobe is used as low cost rental source for area school, civic and church groups and individuals. Special programs held under the sponsorship of the Richmond Community Theatre include guest artists in theatre, literature and music, and bringing in such groups as the Interlochen Academy's touring theatre and area dance companies.
In 1988 the Centennial Building Foundation was fostered by RCT members to provide funding for building improvements. Since that time, the building, a charming, brick stone-trimmed, Gothic Vulgate, typical of churches in small towns in Michigan at the time of it's construction - 1887 - has been painted, exterior and interior, a new, specifically-designed and factory constructed (according to requirements of the Michigan Historical Commission) tower, and the addition of a new, high tech stage lighting dimmer board, with all new wiring to meet city and state codes. Recently the stained glass windows were repaired and covered with permanent protective window coverings, the electrical system was upgraded, a new grand curtain was purchased and other upgrades and repairs are in progress. In October of 2010, the Centennial Building Foundation changed its name to the Richmond Center for the Performing Arts Foundation.
In December of 1990, after countless hours of preparation of a large IRS report, Richmond Community Theatre was granted tax-exempt status, 501(c)(3), by the IRS, which now enables the group to seek grants and receive donations.
With embracing the Summer Shakespeare program in 1990 the Richmond Community Theatre had a successful, unique outreach program that enhanced theatre programming. It involved partnerships with the Huron/Clinton Metropolitan Authority, area theatre groups and school systems and ran for three successful seasons in a tent at Stony Creek Metro Park. The Summer Shakespeare program was designed to have a Shakespearean Play and a complimentary musical run in repertoire with high school, college age and community theatre folks involved on and off stage.
In 1993, Richmond Community Theatre teamed up with the Algonac Community Theatre, Port Huron Civic Theatre and St. Clair Theatre Guild to each perform a one-act in four evenings in each of the respective communities. This outreach entitled, ACT IV enjoyed critical success.
Since the beginning, Richmond Community Theatre has promoted and fostered performing arts and has continued the commitment for quality theatre. All of our auditions are open and if you would like to become a part of our history, we welcome you! You can become a member of Richmond Community Theatre and become a volunteer in the many areas of the theatre, from the front of the house to behind the stage and everything in between.
Upon availability, the theatre is available to rent. Please contact RCT at (586) 727-9518 for more information or click here to learn more.